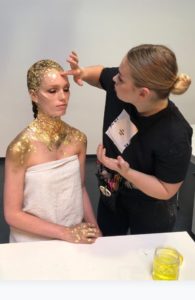 Beauty, make-up and hair is my biggest passion
It's art
It's an expression
My name is Quincy Holman.
I graduated as an All-round make-up artist and hairstylist at the B academy Make-up in Amsterdam.
My biggest passion is make-up and emphasizing the beauty of every person I work with.
Creating an exceptional look every time while working with different types of make-up and products is something I strive for. I always look for creations that suit the wishes of my customers.
My specialties are bridal-, commercial-, fashion-, basic SFX- and editorial make-up. Besides that I'm also specialized in hair styling.
I also graduated as a beautician and have my own skincare boutique Omorfiá Pura.
You can find more information about the boutique under the heading 'skincare'.
If you are interested in a cooperation or prizes you can send an e-mail to: info@quincyholman.nl
or contact me by phone: +31653925755.
For my Skincare boutique you can send an email to: quincy@omorfiapura.nl
or contact me by phone: +31 653925755